• William Pitzer • Infographics
As Hurricane Dorian drives toward the southeast coast, I thought that we should revisit one of the last major graphics I produced in my newspaper career. In 1989, another major hurricane came ashore and wrote its name in the "history book of infamy" as the most devastating weather event in the Carolinas. When the 20th anniversary of Hurricane Hugo rolled around, I teamed up with The Charlotte Observer's Steve Lyttle (our newsroom's intrepid weather reporter) to develop a single page infographic that recounted the storm's path as well as some of the superlative mechanics and numbers that serve as a...
---
• William Pitzer
In the summer of 1969 our family made its annual pilgrimage to the sea – Myrtle Beach – for a week of sun and fun. We were set to return home on Sunday, July 20. I watched Apollo 11's liftoff on the morning of July 16th on the tiny TV in our rented efficiency apartment at Windy Hill Beach. As the week wore on, however, I became increasingly anxious about making it home in time for the scheduled late-afternoon broadcast of the moon landing. My formative years corresponded with the space race. I was a space nerd. My parents bought me...
---
• William Pitzer • Illustrations • Infographics
One of the more challenging assignments I've worked on is this 12-page, accordion-fold nature guide in 2009 for the National Park Service: A Prairie Wildlife Nature Guide and Checklist. Accordion-folds are a great way to produce high-density content through an economy of space. I created 200 drawings of plants and animals, which corresponded to 400 total drawings, including the pencil sketches for the initial layout. Due to the anticipated multiple edits, I decided to make a hybrid set of illustrations with pen and ink originals, scanned in at hi-res and saved as 1-bit tiffs, overlaid on vector color shapes, then masked so that...
---
• William Pitzer • Infographics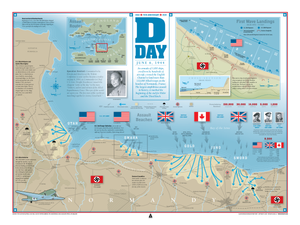 This informational graphic combines layers of information in an easy-to-read, yet comprehensive design. The design is driven by a large map of the Normandy coast that forms the basis for the content layering, but first we need to explore our form factor and set up a grid. When starting the design we always take into account a border and margin, as the base form factor. In this case the border is a horizontal space that is 24 inches wide and 18 inches deep. The margin is 16 x 22, which leaves a 1-inch area of space all around the content area. Next we...